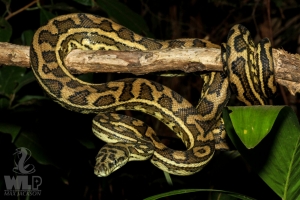 Significance to Humans:
Non-Venomous
Carpet Pythons have no fangs or venom but do have a mouthful of small sharp needle like teeth which may cause substantial lacerations or punctures.
General description:
Carpet Pythons grow to be the largest snake Found on the Sunshine Coast growing up to 3.5 meters in length and maybe even reaching 4 meters. The average size Carpet Python we catch is usually around the 2 meter mark. They are a large, heavy bodied snake with a highly variable, mottled & blotched pattern and colour. Mostly white to cream on the underside. The head is quite distinct from the neck. Deeply pitted scales along bottom jaw and to a lesser extent the upper jaw with small "granular scattered scales on top of the head. Midbody scales in 40 – 60 rows.
Around the home:
The Carpet Python is by far the most commonly encountered species of snake within the Sunshine Coast, Noosa and Deception bay regions. They basically occupy all habitats and will be found it all suburbs within the area. They are often found within close proximity to homes and are often not too bothered by human presence compared to other shy snake species. Often found in roof spaces making the most of the rats, mice and possums running around up there. They are active day and night. Large specimens can take small suburban pets such as dogs, cats, chickens and guinea pigs with smaller specimens taking caged birds. Their diet consists of mainly mammals such as rodents, possums etc; also some reptiles, birds & frogs. The will often be found basking in the sun in trees, on fences or even on your roof. Fantastic climbing ability